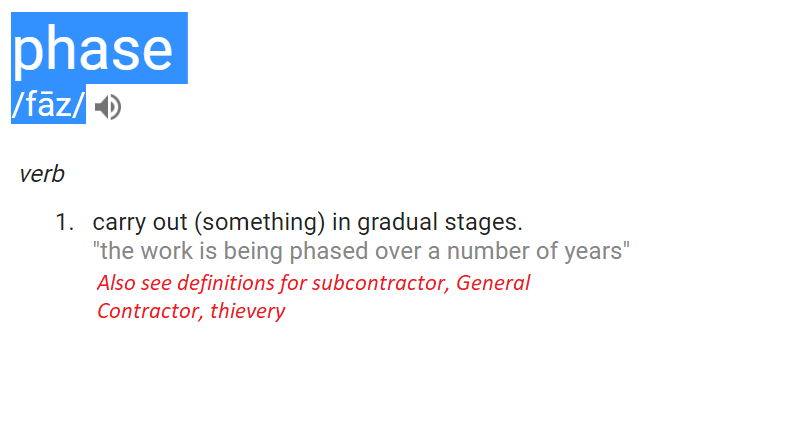 It isn't bad enough that the owners don't have to pay the GC or the subcontractors for retention until AFTER the GC sends an actual request. Most good GCs will do so upon substantial completion and occupancy permits are granted. The bad ones take their time because it doesn't hurt them to hold onto your money.

That said there is a new twist. The phase twist. Let's say a job has phase 1, phase 2 and phase 3. Phase 1 had it's own contract and phases 2/3 had a combined contract. Even though the building defined in phase 2 has been substantially occupied since August and a ribbon cutting ceremony in September one might think it is time to release retention. Nope the GC is hanging their hat on not paying retention until phase 3 is fully complete.

This happened to be a public project but it is happening as well with apartment buildings with multiple units being completed, sold/rented/occupied but no retention because all 10 buildings aren't done yet. Bet you didn't know you were a banker did you?
I'm very sad to see it written down and even more sad when the Them (the General Contractor's) have a far bigger warchest for legal battles that a typical subcontractor could dream of. Subcontractors typically aren't built for the large trudge through the legal system. It's expensive, time-consuming and there is no guarantee of success. […]

In their rush to be cute and to use broad language that they can use to manipulate subs into doing work that wasn't in their bids they should probably check and double-check the normal scope of work. For example. A real example. Probably not the best idea to omit the brick from a masonry contract […]

GENSrate is the first site dedicated to making correct decisions on GCs. No longer wonder who to do business with. Know who to do business with. GCs far too often play games with your money, your company and your sanity. They can play hard, fast and loose. Sometimes a GC and success on a job […]